I will no longer be doing weddings.
I am no longer physically up to it.
Thanks to everyone who has used
my services. Happy Memories!
For all services
Rodger,



I wanted to again thank you for your awesome talent. We are very pleased with the pictures and videos. The pictures were the talk of the reception here in Indiana. I'll send you a picture of the center pieces.

We are so excited.

Thanks,

Linda Hutchens

Network Division Director

317-621-9772


I also offer Videography, in Hi Definition with Blu Ray available using Sony cameras and software. This is in place of stills or with a package and includes editing into a wedding experience video. See my fees page for details on combined service.
Click here for a short sample clip. Please note, the first few seconds are at a very windy rehearsal and the audio was not enhanced.
Short examples in Standard quality
A quick note about HD. Video is designed for televisions or other screens. Still images (Photographs) that I provide are several times better in resolution than HD. When you hear someone offer "HD Quality", remember, the very best in HD video is still not as high a resolution as Still Images that I provide. For more information, see the Photo Tips page.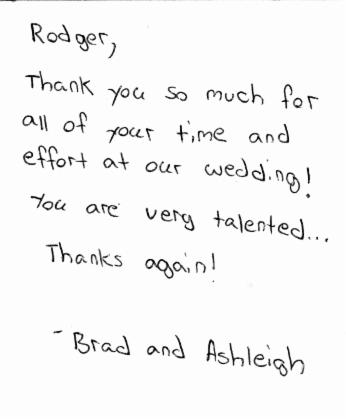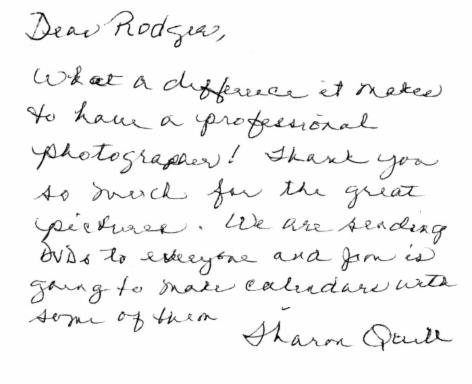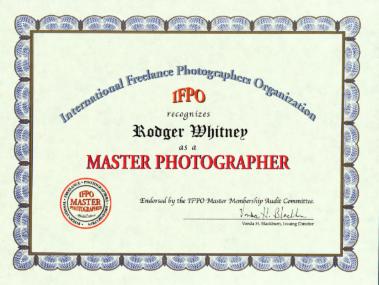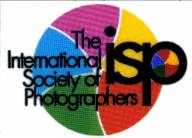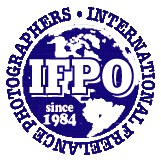 A professional photographer is the difference between a true memory of the day and just pictures.
No matter how well intentioned or skilled a friend or relative is, a wedding or event is a special situation. It requires equipment that can shoot quickly and a sense of timing. Most cameras cannot take flash pictures quickly.
Images By Rodger
When you want good quality, superb service and value,
YOU WANT
IMAGES BY RODGER
Call 252 229 1390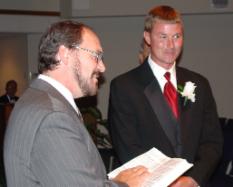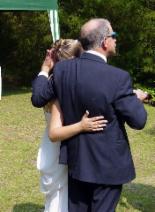 OR e-mail me !
MEMBER OF IFPO, ISP
LICENSED AND CERTIFIED
Insist on these qualifications
OVER THIRTY YEARS OF EXPERIENCE.