Real Estate Professionals!
Are you tired of having your listings as slide shows with music or videos that only show up on your site?
I offer more. Videos that can be silent, voiced over, interactive with the agent either on or off camera...
I place your video on You Tube, where you can link to it, download and host it or whaterver you need. Adding a link to your site is relatively simple.. See the samples below.
Affordable !
Any home within 5 miles of New Bern Mall a combination of stills and video for $45.00.
Commercial Properties stills and video:
Less than 2,000 square feet, $45.00
Over 2,000 square feet, add $5.00 per 1,000 square feet or portion thereof.
Sample:
Voice Over makes the difference Click here for a sample
Another Sample? Click here !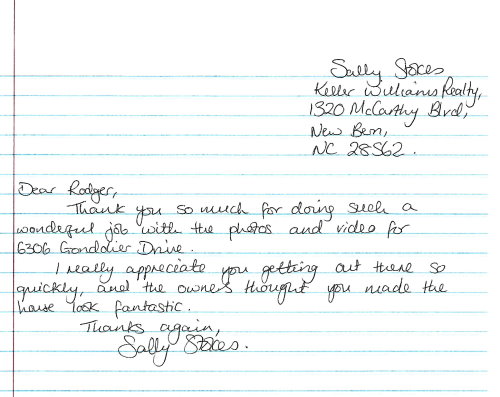 I normally shoot and edit to make each video a true tour of the property, much as you would see if you were there and looking around. Shorter? No problem. YOU are in charge and I will happily work with you to make each showing the way you want it.
Still images. I know there are times you just cannot get a bright picture, special angle or simply need equipment you don't have. Call me ! Happy to assist!